Our Fencing Division
CLIC has a successful track record spanning over 40 years. CLIC's extensive range of field proven security fencing products offer unparalleled protection against unauthorized site access, specially in security sensitive applications and harsh external environments.  We leave no stone unturned to meet the satisfaction of our customers both in the Public as well as Private sector.
CLIC's fencing product range includes chain link fences, welded mesh panels, barbed wire, concertina barbed wire, razor tape,  chain ink infill gates, wall ties, and more.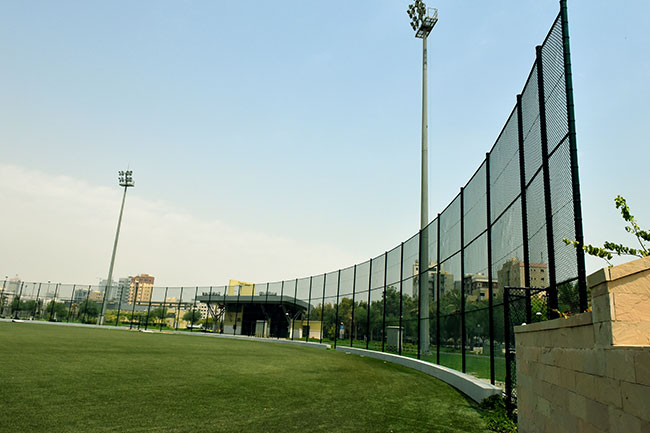 Our state-of-the-art 50,000 Square feet Facility in South Subhan Industrial Area, houses the company's key Fencing, Trading & Contracting Divisions, including Senior Management, Sales & Marketing Teams, Administration, Engineering & Manufacturing, Product Development & Training, Technical Services etc.
CLIC has ISO 9001:2015 accreditation which stands for our commitment to best business practices.
CLIC offers security fencing solutions for multiple applications such as :
Oil, Gas, Petrochemical Plants and Refineries
Government Buildings
Military Installations
Industrial / Corporate Campuses
Motorways
Airports & Borders
Tennis Courts and other Recreational Sports Facilities
Transport Centers
Private Residences
CLIC has manufactured and supplied fencing to some of the most prominent companies in Kuwait, including Kuwait Oil Co (KOC),  Kuwait National Petroleum Co (KNPC), Petrochemical Industries Co (PIC), Equate, Ministry of Public Works (MPW) Public Authority for Roads & Transport  (PART) for their motorway projects, Ministry of Defence, Ministry of Interior  for border fencing and other highly sensitive projects, Ministry of Electricity & Water, Civil Aviation, US Army Bases, Petrofac, Hyundai Construction Co, Daelim Construction Co, NBTC, UGCC, to name a few.
CLIC supplies specially tailored fencing to KOC & KNPC,  such as Angle based fences, corrugated sheet fences and Wellhead compound fences.
CLIC's design services includes the preparation of shop drawings, detailed drawings, BQs, material specification and advice on installation.  We also undertake installation projects at the client's request. Our well trained installation crew also helps and gives advice to clients if the installation is carried out by them.
Our commitment to excellence is reflected in the world class manufacturing infrastructure. We have built a reputation for maintaining the highest standards of quality across our entire product spectrum. Each of our leading fencing security systems is the combined result of innovative design, stringent production processes and superior components. Our fencing security products undergo rigorous testing and are certified for use by numerous Government Laws and Regulatory Agencies in the GCC.